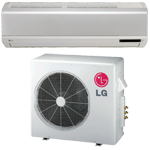 October 09, 2017
Duct Free for The Fall
This Fall will bring all different types of weather to the mid-south. If this is the case, we will be having hot, cold, or a mixture of both until the real Fall winter arrives. That is why having a duct free system in your home is perfect. They are small, efficient, and will keep your house or rooms at the temperature that you desire. This will save you some money in the long run because when you change your thermostat between hot and cold, your energy bill will be increasing every time.
The Facts
Duct free heating and cooling systems make your home's individual rooms or other small spaces more comfortable. Remember, just like whole-home systems, the higher the SEER and HSPF ratings, the more efficient they will be.
We offer a variety of through-the-wall packaged terminal air conditioners (PTAC) and duct free heating and cooling systems to meet any individual room's needs.
CUSTOMIZED COMFORT FOR LESS
Whether you're creating a quiet, comfort controlled room, or simply want to heat or cool an area without expensive ductwork, LG's duct-free systems set a new standard for efficiency, great looks and comfort. Duct-free systems are much simpler and economical to install because they only have three basic parts: an outdoor condensing unit, an indoor unit, and the components that connect the two. Duct-free systems are ideal for home or office additions, to replace unsightly window units, and for renovations or retro-fits where it's important to preserve the building's original appearance.
Call for Ductless Air, Today!
Contact Muse HVAC: