Carbon Monoxide is Dangerous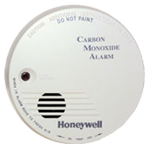 January 16, 2017
Carbon Monoxide is Deadly
Most days the thought of carbon monoxide doesn't even cross our minds. Every house has to have a Carbon Monoxide detector to keep you and your family safe. You may be thinking, "What even is Carbon Monoxide?" Well it is in fact a tasteless, colorless, and oderless gas that is slightly less dense than air, and is toxic to animals and humans. That is definately not the air you want to be breathing inside your home. But there is a simple solution to this deadly air.
Carbon Monoxide Detectors
A monitored carbon monoxide detector will alert you if high levels of this deadly gas are detected. Local building ordinances require the installation of carbon monoxide detectors in your home. An expert technician from Muse Heating & Air Conditioning can properly install your CO detector and ensure it's functioning correctly. This will ensure the safety of you, your pet, and your family!
Get your detector today!
Contact Muse HVAC: