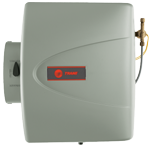 September 01, 2017
Time Doesn't Stop
Yes, you are reading that right it is time now to prepare for the new season that is upon us. We are almost through the heat of this Summer, and with that comes a lot of temperature changes for us in the South. One day it could be hot, and the next it could be jean and jacket weather. Regardless, your house is not going to understand the weather changes like us humans. That is why installing a humidifier would be very beneficial to you and your family! In addition, with this installed during the fall weather it will work hand in hand with winter as well.
More Information
Humidifiers work in tandem with your heating system to deliver desired humidity levels throughout your home. Maintaining proper humidity levels in your home is essential to maintaining indoor comfort during the winter months. Moderate humidity levels make you feel warmer at lower temperatures, which means you can set your thermostat lower without sacrificing comfort.

Depending on the size of your home, we offer a variety of humidifiers to deliver the right amount of moisture into the air. Sizing of humidifiers is measured in Gallons Per Day (GPD), and we offer models from 12 GPD to 18 GPD.
Call For A Humidifier, Today!
Contact Muse HVAC: