How to Control Temperature by Room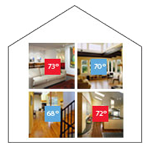 December 19, 2016
Temperature Problems?
Waking up in the morning is a first impression to the day. Your bedroom may be warm, but the rest of the house may be freezing. Nobody likes to step into an uncomfortable temperature in their own home. Zoned HVAC systems can help you immediately. Each room is unique in its own way, and with this system your rooms will never be the same.
The Fix
So what is zoning? Zoning is a specific way to control the temperature in each room, whether you are in it or not. Each room has a zoning sensor with a temperature that you set for each room. Within the system, you can set it for the rooms you know you will be going into such as your living room, bedrooms, and kitchen areas. Don't feel like getting out of bed to change the thermostat? No worries, zoning HVAC has smart technologies allowing you to control the system without getting up. In addition, zoning can help save you up to 30% on your energy bills!
Installing the Muse zoning system can help you find the right temperature today!
Contact Muse HVAC: