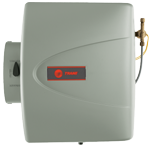 January 31, 2017
Humidify Your Comfort
Humidity levels are an after thought in today's society. Have you ever wondered if there was a way to be comfortable in lower temperatures with more than just heat? Well we are here to tell you today, that is is possible and easier than you think. Here at Muse, we want to keep your family as comfortable as possible for a low cost. If you install a humidifier along side with your HVAC system, there will be a team effort between the two systems to work together to make the living coniditions in the colder days more comfortable. How is this possible?
The Facts
Humidifiers work in tandem with your heating system to deliver desired humidity levels throughout your home. Maintaining proper humidity levels in your home is essential to maintaining indoor comfort during the winter months. Moderate humidity levels make you feel warmer at lower temperatures, which means you can set your thermostat lower without sacrificing comfort.
Get Your Humidifier Today!
Contact Muse HVAC: