Is it Time for an Upgrade?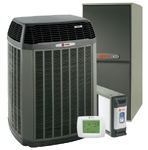 July 24, 2017
When Should You Upgrade?
When you live in the South, chances are your unit has done some extreme work here in the summers. Too many summers of your unit pushing itself, and it will start to have issues. When this happens, you have mainly two options. You could either: keep investing in your current unit, and pay for all the repairs, or you could upgrade to a newer more efficient unit. Some of you may be asking yourselves, "what's the point of that?" The benefits of upgrading to a newer system is that a newer unit is more cost efficient in the long run for your energy bill. In addition, this goes for everything we offer here at Muse. As technology advances, it goes alongside our units as well making a product that is best for you.
More Information
Your home comfort system is most likely the single biggest use of energy in your home. In fact, over a third of the energy used in the United States is used to heat and cool buildings. Having a properly designed and installed heating and air conditioning system will have the biggest impact on your energy costs.
Choose Muse Heating & Air Conditioning for your next equipment upgrade or replacement. We provide:
Free in-home consultation with one of our HVAC specialists.

Help selecting an energy-efficient heating and air conditioning system that meets your comfort preferences and lifestyle.

Proper sizing of the equipment to meet the unique needs of your home.

A convenient way to pay for your installation through our flexible financing options.

Full factory warranties on all equipment and labor.
Call For An Upgrade, Today!
Contact Muse HVAC: