Is Your Unit Ready for the Next Season?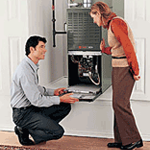 August 28, 2017
Longevity
Your units have a life just like the rest of us. Although, they need a little more attention. Your units should be routinely checked, and even sometimes repaired. It's on the down slope of Summer right now. and it may be a great time to check on your units and see if any repairs are needed before the brittle chill of Winter. Yes, I said it, Winter, it may seem far away now, but time is moving fast. Today is a great day to have a technician come out and repair your unit!
Additional Info
As licensed contractors and specialists in the field of heating and air-conditioning, we have the tools, the equipment, and the experience to keep your equipment running smoothly all year long. If it is emergency service that you need, we are available to assist you, 24 hours a day, 7 days a week. To help reduce those service emergencies, we offer service agreements to keep your comfort system running at peak performance.
Call For A Repair, Today!
Contact Muse HVAC: