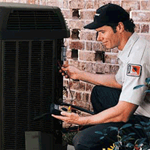 June 19, 2017
Keep It Up
Maintenance on your units is not something you think about every day. The only time you start think about it is when something goes wrong. Instead of waiting until something breaks, you can prolong the lifespan of your unit if you do maintenance on it periodically. Sometimes small problems go unnoticed, that is why when you sign up for maintenance agreements we will find these issues before you do. There are many benefits to doing this as well. Units these days are not cheap, and it may cost you more than you would like. This maintenance has a few benefits that will help your wallet as well. What are they you ask?
Your Answer
With regular maintenance, you will prevent small problems from becoming big problems and ensure optimal performance of your comfort system. We also offer annual service agreements, which can reduce the cost of a Performance Tune-Up.
Regular maintenance will:
Provide longer lasting equipment

Reduce utility bills

Reduce repairs

Provide a more comfortable indoor environment

Protect your investment
Call For Maintenance, Today!
Contact Muse HVAC: