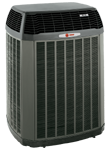 February 27, 2017
They are Not All the Same
When you are looking to invest in a new air conditioning unit, you may just look at the price and say, "this is it." In addition to that, you may also just simply look at the unit and do the same thing. The good news is they are NOT all the same, and we can help you choose the correct unit. We want to save you money on your electric bill, and we have the units that are able to achieve that.
The Solution
We offer many air conditioners that have advanced features, such as 2-stage compressors and variable speed fan operation. These features not only improve the comfort level of your home, but can provide additional energy savings as well. Call us today to figure out the right unit for you.
Pick the right unit for you, today!
Contact Muse HVAC: