Protecting your HVAC investment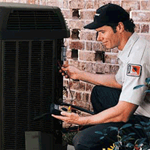 January 09, 2017
Helping Prevent Major Issues
The weather down south is very interesting isn't it? From wearing shorts on Christmas, to having a good snow at the beginning of the year; your HVAC systems have been at some real work. Changing it back and forth from heat and AC can be costly, and also put some pressure on your systems. We want your systems to be in top shape, and work correctly during a sporatic weather season! We want to help you out in every way we can; that way YOU as the customer knows that your family will feel the way they want to inside.
---
Tips
With regular maintenance you will prevent small problems from becoming big problems and ensure optimal performance of your comfort system. We also offer annual service agreements, which can reduce the cost of a Performance Tune-Up.
Regular maintenance will:
Provide longer lasting equipment
Reduce utility bills
Reduce repairs
Provide a more comfortable indoor environment
Protect your investment
We can help you prevent major maintenance, call today!
Contact Muse HVAC: