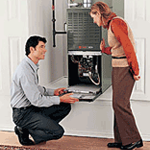 February 21, 2017
Repair Your Investments
If you are like everyone else, your HVAC unit will eventually sart to have issues. Issues only cause more problems, and we want to ensure that you and your family are living comfortably. Other companies usually like to charge too much for a sub par service, with technicians that just try to get the job done. With Muse, we are here for you all the way, and we have expert technicians who know what the problems are. The weather is changing back and forth from cold to hot, which can put a strain on your units. Be sure to call us today to have us come take a look.
---
More Information
As licensed contractors and specialists in the field of heating and air-conditioning, we have the tools, the equipment, and the experience to keep your equipment running smoothly all year long. If it is emergency service that you need, we are available to assist you, 24 hours a day, 7 days a week. To help reduce those service emergencies, we offer service agreements to keep your comfort system running at peak performance.
Have your unit repaired today!
Contact Muse HVAC: