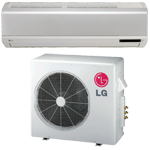 March 13, 2017
Something to Think About
Sometimes you have rooms that you want to control the temperature of separate from the rest of your house. Similar to zoning, duct free systems can provide the comfort for any room, just the same as an original duct system. A duct free system can also be cost efficient for your wallet. These systems can save you money in the long run so you don't have to spend the big bucks on expensive installation of an actual unit. You may be thinking, "What are the benefits of this?" I am glad you asked, because we have the answers.
The Solution
THE BENEFITS OF DUCT-FREE
Fast installation - With no costly ductwork, duct-free systems can be installed in places where conventional ducted systems simply can't go.
Incredibly quiet - Indoor units operate at just 26 dB (the level of softly rustling leaves!).
Custom temperature control - It's easy to precisely maintain the temperature in each room.
Attractive design - Choose from a wide variety of elegant looks to enhance any interior decor.
Be Duct Free, Today!
Contact Muse HVAC: