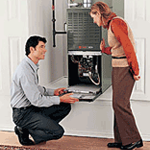 April 18, 2017
Importance of Repairs
Air conditioning units do not last forever, but the good news is they can have a prolonged life with maintenance. Although your unit may look old and rusty, chances are the inside is not as bad. The outside of your unit is just protection of the inside so it can get the proper job done. The summer is fast approaching, and spring in the can also get up in those high temperatures. What does all this mean you ask?
Your Answer
The answer to that question is, that you may think your unit is perfectly fine. There very well may be an issue with it that you cannot see at all. Call muse today, and our experts will come and assess your unit and give you an update on it. As licensed contractors and specialists in the field of heating and air-conditioning, we have the tools, the equipment, and the experience to keep your equipment running smoothly all year long. If it is emergency service that you need, we are available to assist you, 24 hours a day, 7 days a week.
Call For A Repair, Today!
Contact Muse HVAC: