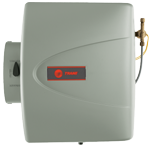 November 06, 2017
Winter Is Coming
The Fall season may have just started, but that doesn't mean that it won't be cold. We all know in the South that it is either hot or cold all the time. The tradition will continue this upcoming cold season. Therefore, if you do not currently own a humidifier system, now would be a great time to invest. A humidifier is a great addition to any home, and is especially beneficial in the colder months. There are numerous benefits to owning a humidifier in your home. Just a few include preventing dry skin, home feels warmer, and prevents damage to the wood of your house. Humidifiers could help you and your family have a great holiday season this year!
More Info
Humidifiers work in tandem with your heating system to deliver desired humidity levels throughout your home. Maintaining proper humidity levels in your home is essential to maintaining indoor comfort during the winter months. Moderate humidity levels make you feel warmer at lower temperatures, which means you can set your thermostat lower without sacrificing comfort.

Depending on the size of your home, we offer a variety of humidifiers to deliver the right amount of moisture into the air. Sizing of humidifiers is measured in Gallons Per Day (GPD), and we offer models from 12 GPD to 18 GPD.
Humidifiers: Click Here
Call for a Humidifier, Today!
Contact Muse HVAC: