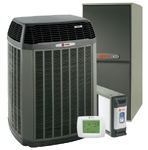 February 07, 2017
Out With the Old, in With the New
If you are like many from the midsouth area, you have been living here for quite sometime. HVAC systems are not invincible, and you may be due for an upgrade. If you fall into this category then you should consider upgrading through Muse. Your home comfort system is most likely the single biggest use of energy in your home. In fact, over a third of the energy used in the United States is used to heat and cool buildings. At Muse, we want to install the best quality unit, for the best quality price you are looking for. In addition, we will make sure that it is installed properly by one of our specialists to ensure that you save the most money in the long run.
Muse
Choose Muse Heating & Air Conditioning for your next equipment upgrade or replacement. We provide:
Free in-home consultation with one of our HVAC specialists.
Help selecting an energy-efficient heating and air conditioning system that meets your comfort preferences and lifestyle.
Proper sizing of the equipment to meet the unique needs of your home.
A convenient way to pay for your installation through our flexible financing options.
Full factory warranties on all equipment and labor.
Upgrade Today!
Contact Muse HVAC: