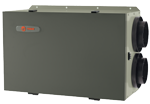 April 11, 2017
Ventilation
Not many people know about ventilation or ventilating your home. Ventilation brings clean and fresh air inside your home without losing heating or cooling energy. This is ideal for money saving and energy saving needs that every family can benefit from. Their unique energy exchange system transfers the heating or cooling energy from the stale air being exhausted from your home to the fresh air the ventilator brings into your home.
---
Some Benefits
If your family suffers from allergies, ventilators are a much better alternative for introducing fresh air into your home versus opening your windows. They also do a great job of reducing cooking and pet odors, smoke and other pollutants out of your home.
If you want learn more about how it works, click here
Get Fresh Air, Today!
Contact Muse HVAC: