Your Thermostat is Unique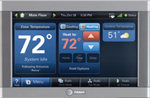 August 07, 2017
Your Thermostat
Your thermostat is something that you do not normally pay much attention to. However, with today's technology your thermostat can be so much more. With smartphones becoming ever more adaptable to each piece of technology, you can control your home from your phone. In addition, this can also save you money in the future because of the ability to schedule when you want your thermostat to kick in. This feature is great for when the family goes on vacation, or if the house is vacant for most of the day. No need to waste energy when there is no one home to use it.
We Have What You Want
Thermostats are used to turn on heating or cooling systems to bring the home to a set temperature. In addition to basic temperature control, programmable thermostats can be used to manage the indoor environment of your home at different times of the day or week. This type of control can have a dramatic impact on the overall energy use of your home. We carry a complete line of thermostats. Let us help you choose the one that best matches your lifestyle.
Click here for more information.
Call For A New Thermostat, Today!
Contact Muse HVAC: