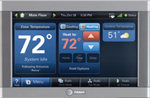 Thermostats are used to turn on heating or cooling systems to bring the home to a set temperature. In addition to basic temperature control, programmable thermostats can be used to manage the indoor environment of your home at different times of the day or week. This type of control can have a dramatic impact on the overall energy use of your home. We carry a complete line of thermostats. Let us help you choose the one that best matches your lifestyle.
Programmable Thermostat Product Offering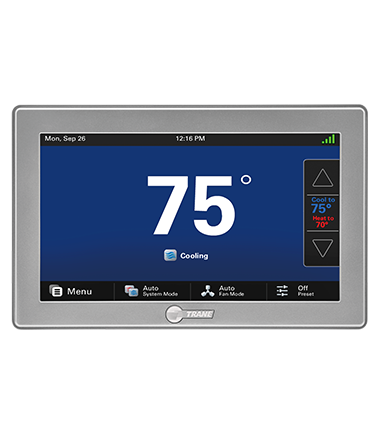 ComfortLink™ II XL1050 Thermostat
View Brochure
Model Family: XL1050
Programmable: Program up to 4 schedules a day, 7 days a week
Communicating Capability with HVAC Components: Yes
Remote Access: Yes
Screen: 7" Large Color Touchscreen
Warranty: 10-year Registered Limited Warranty on internal functional parts.
Manufacturer's Stated Benefits:
Adjust Home Temperature Remotely
Upgradable Software
Nexia™ Diagnostics
Built-in Nexia Bridge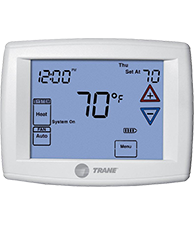 XR302 Digital Programmable Thermostat
View Brochure
Model Family: XR302
Programmable: 7 day or 5+1+1 programming or manual operation
Communicating Capability with HVAC Components: Yes
Remote Access: N/A
Screen: Large, bright back-lit display with interactive touch screen
Warranty: 5-year limited warranty
Manufacturer's Stated Benefits:
Armchair programming with removable screen
Filter change and UV lamp reminders
Programming functions stored in permanent memory
Manual or auto changeover
Energy Management Recovery (Early Start)
Daylight Savings Time
Five-minute time delay for compressor protection
Outdoor temperature display
Compatible with 3 wire zone valves, mili-volt and dual fuel systems